Drivers and navigators team up to bump other cars while avoiding getting bumped themselves!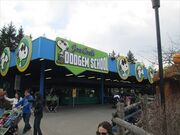 Parents, have your camera ready to snap a photo of your kids laughing and smiling as they "drive" for the first time!
One of the most popular rides with young guests.
This ride allows the young at heart to drive a low speed electrically run bumper car.